To print your slideshow onto paper or save it to a PDF file, select Print from the File menu and select one of the options in the submenu:
Script
Contact Sheet
Shot List
Script
The Teleprompter feature is great to help you during your presentation. However, some of you prefer paper notes which you can print out from FotoMagico to aid in preparing the presentation or to help you on stage. If you prefer to use your smart phone or tablet, you can export a PDF optimized for viewing on a small screen.
💬
The script is created from the notes that are entered for each slide. For this reason printing a script is only useful if slides notes have been entered.
💬
Slide notes can contain bold, italic and colored text for emphasising parts of the script.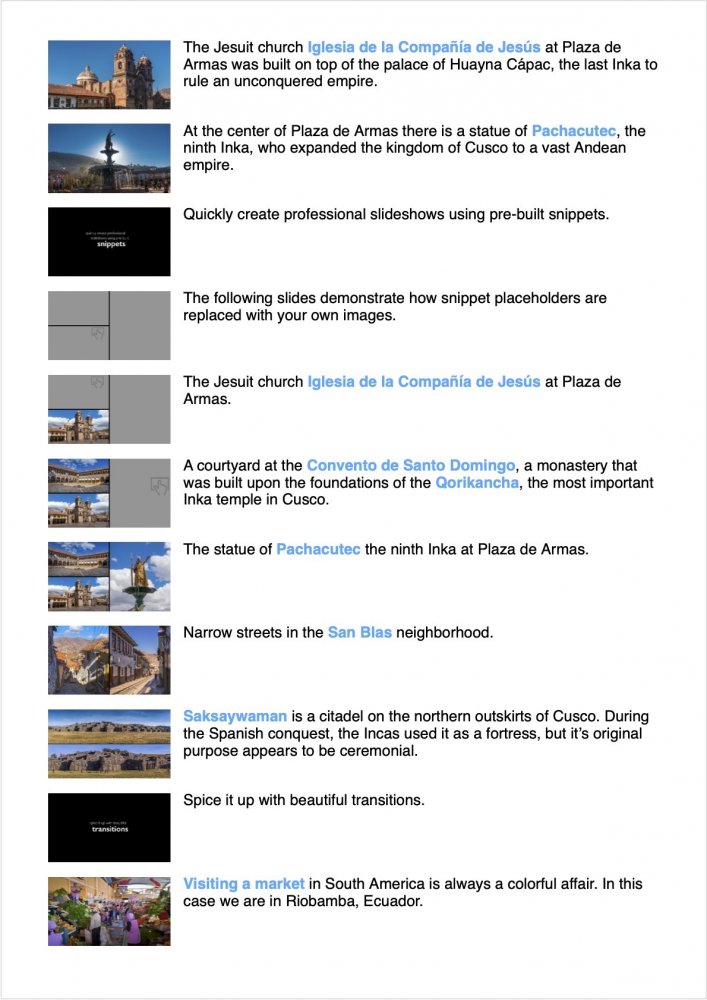 Contact Sheet
A contact sheet provides an overview of the story, helping you to spot gaps in your story, or discuss progress with a client. If you create a portfolio slideshow, a client can use the contact sheet to easily select and order pictures they like.
Shots List
When creating a slideshow with the help of Story snippets, you sometimes need a list of shots that are needed to tell the complete story. Print the shot list and take it with you in the field. You can check off each entry in the list as you take the pictures, making sure that you are not forgetting any of the needed photos. Once back at the computer, just drop the new images onto the placeholders of the story snippets.
💬
Since the shot list is generated from the hints in the invisible text layers of story snippets, this option is only useful if you are actually using any of the provided story snippets.