What is an audio marker in FotoMagico?
Audio Markers are a great help creating consistent transitions from slide to slide. With Audio Markers, the start/stop of animations or the position of the next slide is controlled precisely.
Furthermore, Audio Markers are of great value if you like to do jump cuts or transitions to the beat of a music track. Existing Audio Markers within a project timeline will be used automatically by FotoMagico. The free Music Snippet Addons are tagged with Audio Markers to the beat.
What is an audio marker assistant?
The audio marker assistant feature is easy to use. Start by selecting an audio track in the storyboard or timeline, then choose Audio Marker Assistant from the Slideshow menu bar. At the top, you will see the audio waveform and playback buttons. You can scroll around the waveform. Use the scale slider or a two-finger pinch gesture on a trackpad to zoom into the waveform to reveal more detail.
The assistant has two different workflows: Automatic and Manual. Which one is more appropriate depends on the kind of music you are using:
Pop, rock, or dance music with a regular beat is suitable for automatic marker creation.
Classical music or soundtracks that often changes tempo are suitable for manual marker creation.
Manual Markers
In manual mode, you basically play the audio and press the M key or the big button in the middle with the beat of the music to add new markers. Play the audio again from the start to review the accuracy of the Audio Markers. You can delete a particular Audio Marker or drag it to the correct location with the cursor.
Automatic Marker Creation
The use of Automatic markers is reasonable if the music track contains a steady beat. It works best if the music track contains a drumtrack. If you know the tempo (BPM) of the song, enter the value into the BPM (beats per minute) text field. The Offset value determines the position of the first Audio Marker.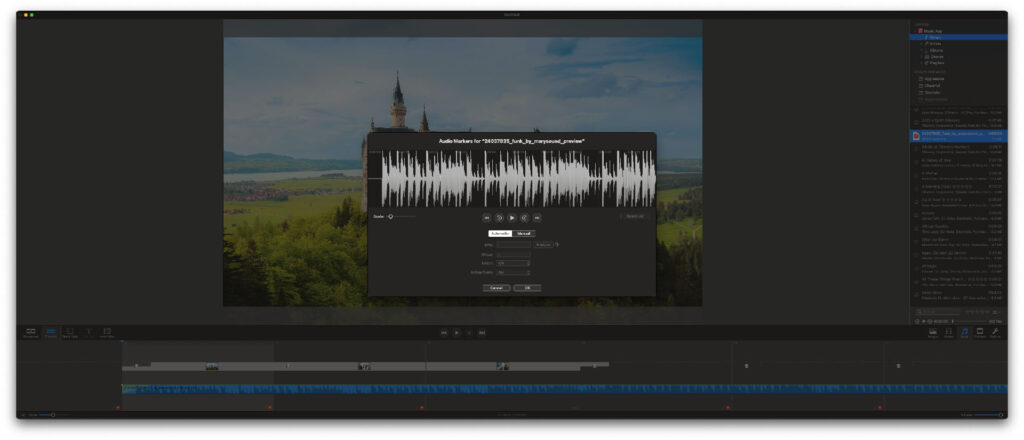 Syncing Slides
Adding markers to an audio track is the first step in syncing slides with audio. The second step is performed automatically once you click on the OK button: All slides above the audio track are switched to continue "At Audio Marker" and their durations are automatically adjusted so that animation speeds are still correct.
Once you have added audio markers to your audio track, select all slides above the audio track, open the Slide Options, and select Continue at Audio Marker. The slide transitions are now perfectly synced to the music!