Can you imagine watching a blockbuster in a cinema without sounds and music? Epic cinema scenes without sound? Amazing landscape drone shots without epic music?
If you're looking to add some music to your slideshow in FotoMagico, there are a few things you'll need to do.
Here are 5 steps to get you started to create a slideshow with music:
Find the perfect song. This will set the tone for your entire slideshow, so take your time and find something that really speaks to you.
Download and purchase the song. Once you've found the perfect tune, make sure you have the legal right to use it by downloading it from a reputable source or purchasing it. FotoMagico includes a large set of free music under Creative Commons Licences. Download the free Music Packs through the Connect / Download Snippets Menu.
Add the song to your slideshow. This is the easy part! Simply add the song file to your slideshow project and position it where you want it to play. You can access it through a folder or through your Apple Music Library.
Adjust the volume. You don't want your music to be too loud or too soft, so take a moment to adjust the volume levels until they're just right. Otherwise, your slideshow with music creates more pain than joy.
Time your slides to the music! This will help ensure a smooth, cohesive presentation. The audio marker assistant feature helps you to set the transitions to the beat of the music.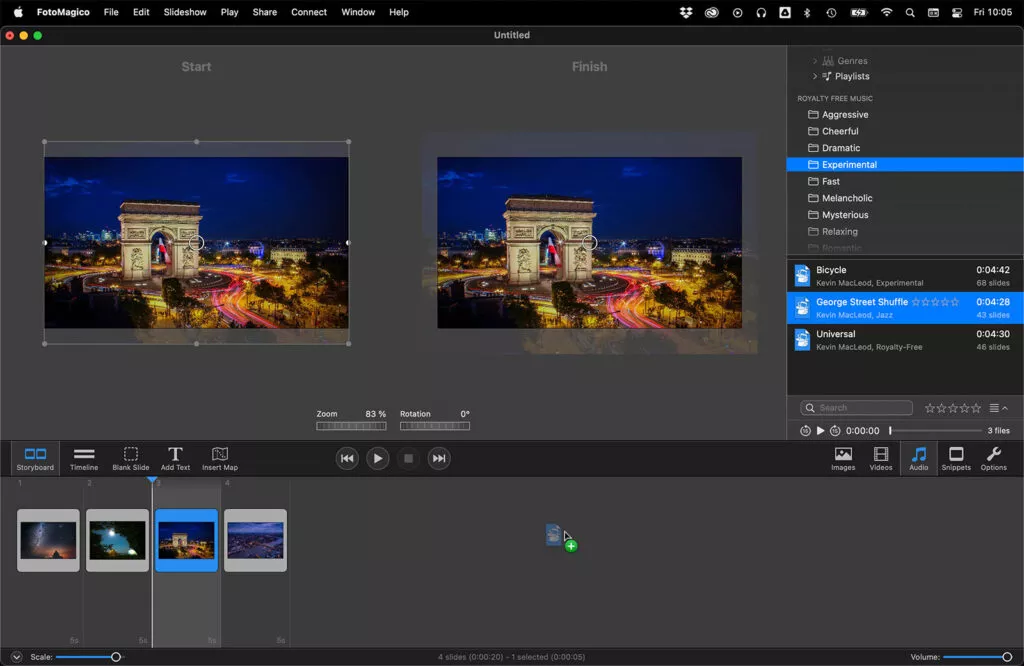 Now it's time to export. Always preview your work before exporting it, and make sure the music sounds good in relation to the rest of your slideshow. Then export your final project and share it with the world!
Adding music to your slideshow is a great way to set the mood and add some personality. Just follow these simple steps and you'll be up and running in no time!