Saddle Stories – traveling the world by bicycle
We are Angelika and Reinhard from Austria and in 2018 we set off to travel the world by bicycle. Here we like to talk about the reasons why we have chosen FotoMagico to create our slideshow presentation.
Our plan was to cycle all the way to New Zealand, as it ́s literally a place "on the other side of the word". The motivation was to challenge ourselves physically but also mentally. A trip like this always comes along with many ups and downs, obstacles that need to be conquered and problems that want to be solved.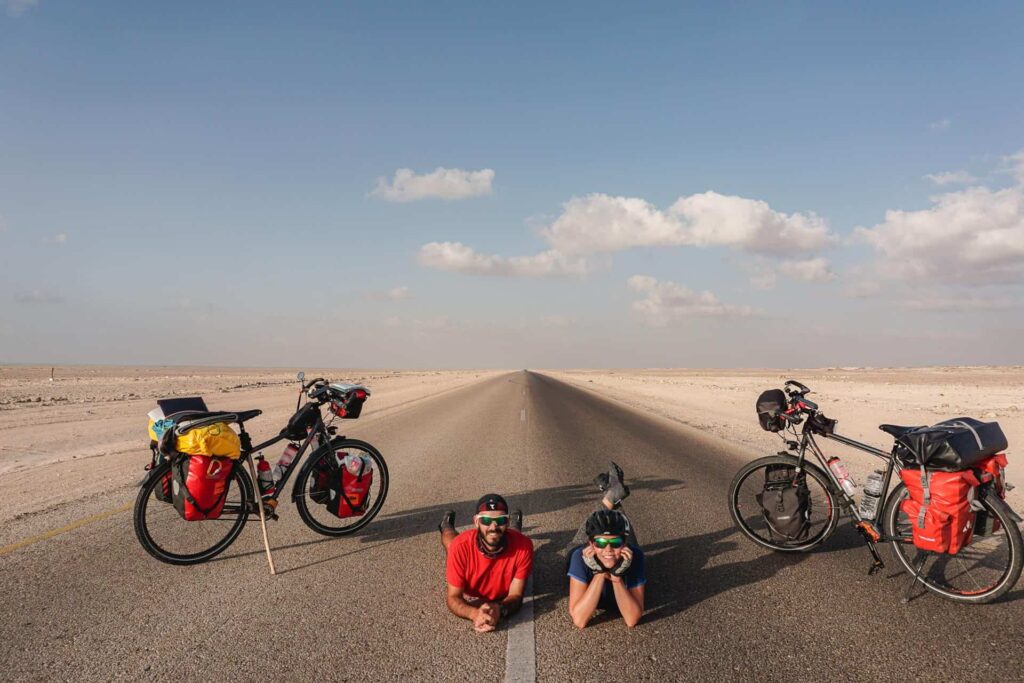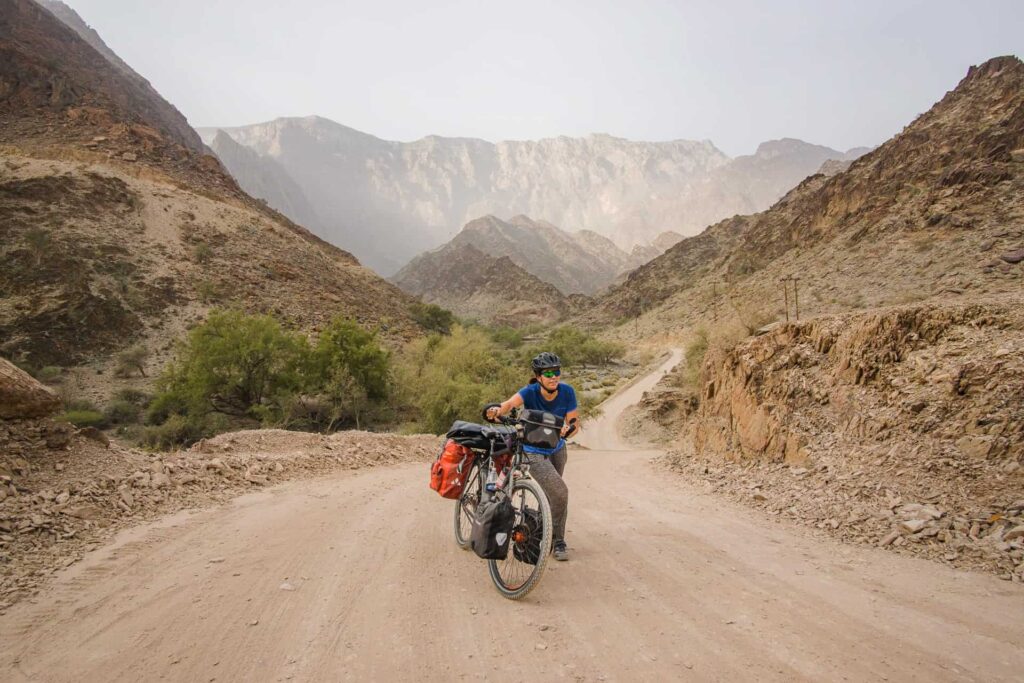 Our route led us from Salzburg in Austria to the Balkans, we cycled three months in turkey and continued in Oman. In Oman, we cycled across the desert for three weeks, slept under the desert's starry sky and swam in the Oasis shining blue fresh water holes. We kept on cycling in Iran and Central Asia, crossed the Pamir Mountains in Tajikistan and the land border from Kazakhstan to China. After cycling the Tibetan plateau in China we entered Southeast Asia. But from that moment on we seemed to be followed by bad luck. We got involved in a car accident and our recovery took almost 2 months. Just a few weeks later the global pandemic outbreak forced us to return home.
After returning home we realized that this trip was never about reaching a destination. It was about cultures, about the little encounters with people along the road, about exploring unknown landscapes and stepping out of our comfort zone. We wanted to tell our audience back home about our experiences, about the kindness of people we met and we wanted to motivate others to have fewer doubts but more trust in their own abilities.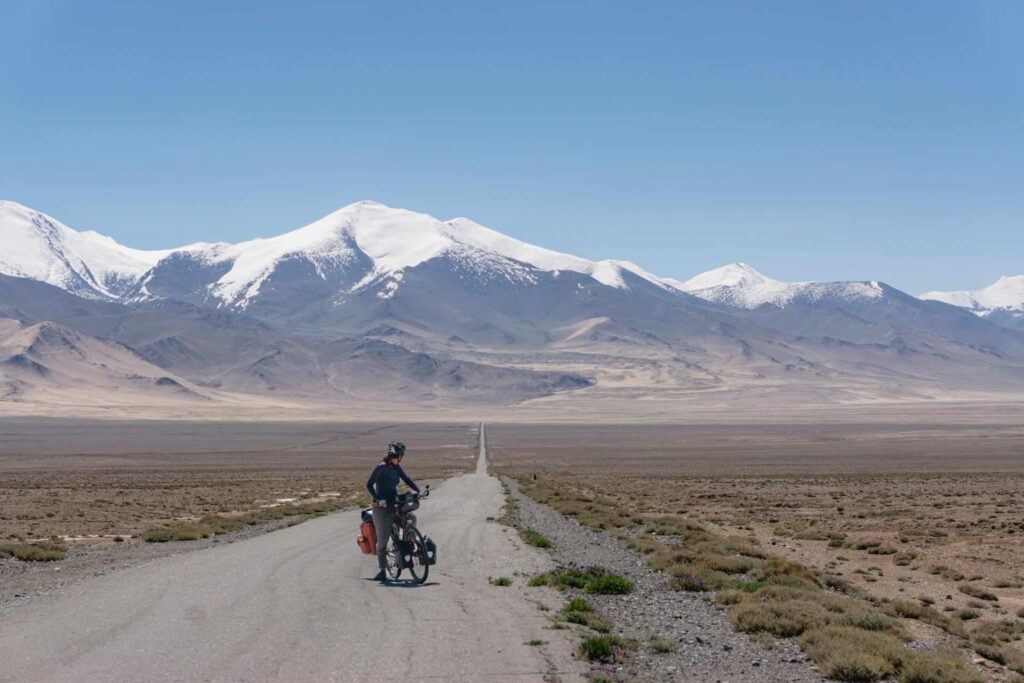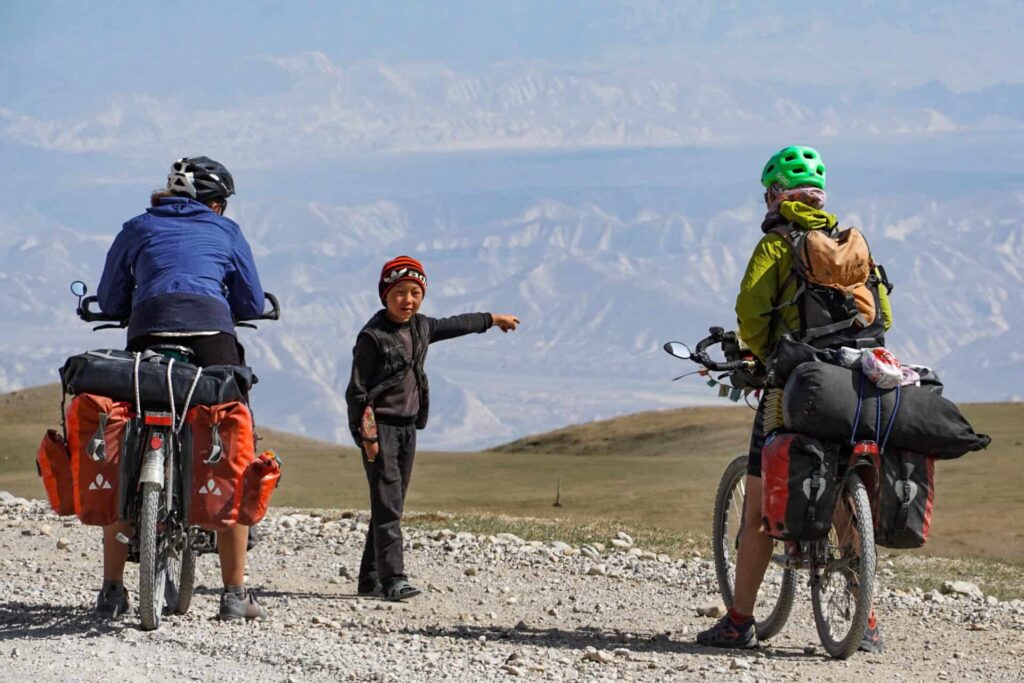 Why FotoMagico to create our slideshow presentation?
With FotoMagico we found the perfect software to make this happen. We needed a solution that can be used for live slideshow presentations at festivals and other professional events. We expected to have 100-200 people attending each presentation. As Mac Users we found FotoMagico as the most professional yet user-friendly software, that doesn't require a long training period. On our travels, we collected tons of photos and videos in HD quality. Therefore we needed software that can cope with big files, especially when it comes to videos and time-lapse videos.
Elements we built in our slide show videos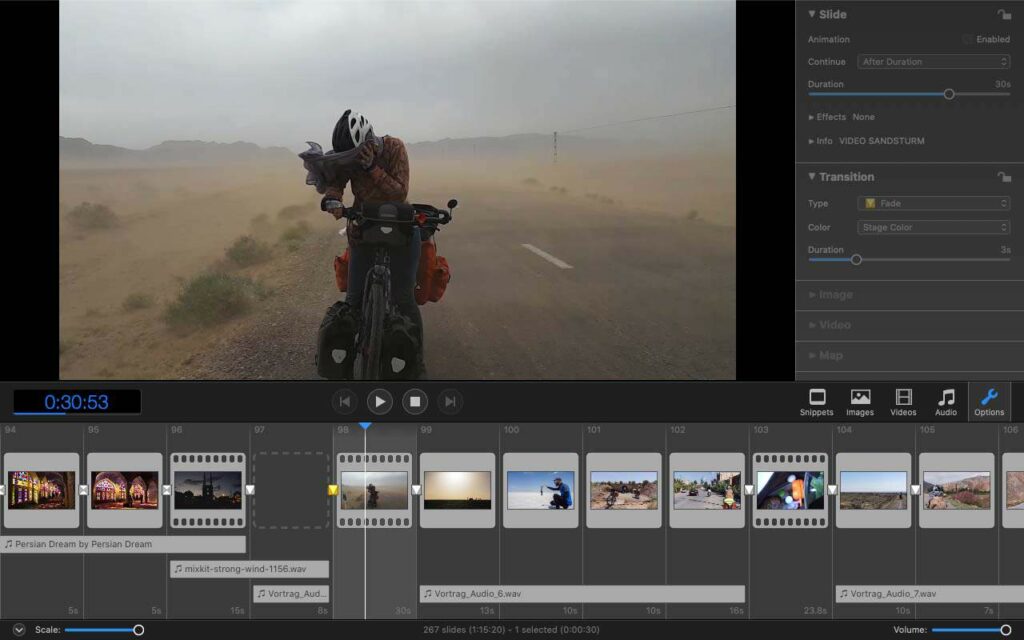 To transport the feeling to our audience of cycling in difficult weather conditions we included some video footage of our cycling trip. With drag and drop it ́s easy to integrate videos in your slideshow and you can choose the transition mode you think fits best. You can also add extra audio lines to emphasize certain emotions. In this case, we had added stronger wind sounds.
Simple Slideshow with music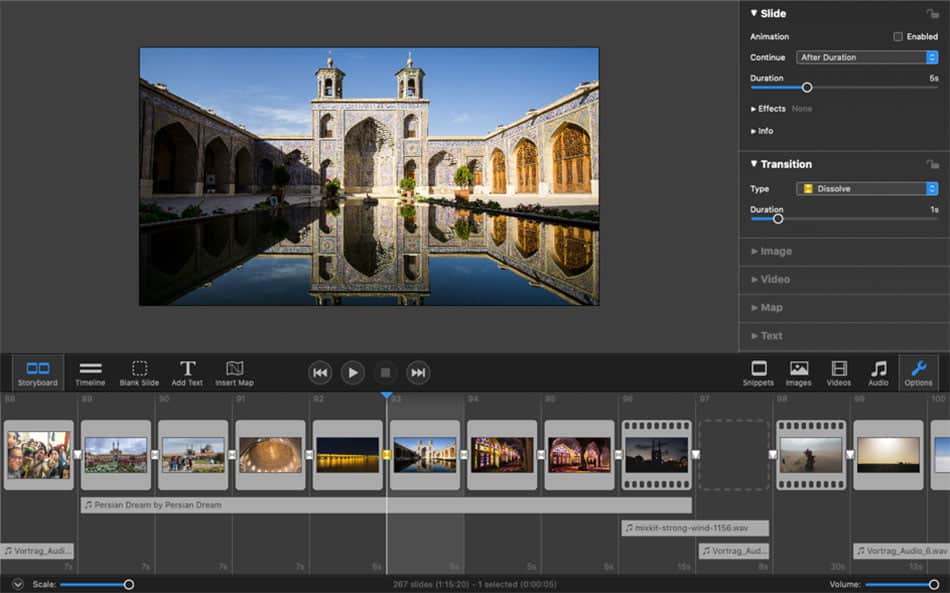 We used the features of FotoMagico to integrate a section with a simple picture slideshow. For example, to express the beauty of Persian cities we chose our best pictures from Iranian cities and add Persian music to support that flair. As transition mode, we chose "Dissolve" as a slow and calm transition, which we never used for any other sections. There are no live comments from us during this section to put the audience's attention exclusively towards the pictures.
Title slide
FotoMagico gives you many snippets to choose from to build an animated intro and title slide. As we already had created a poster to promote our live talk, we wanted the title slide to look exactly like our printed poster. With FotoMagico you have multiple layers on each slide that enables you to create your own design with added text and pictures. This is how our title slide came out. It perfectly fits our printed promotion poster.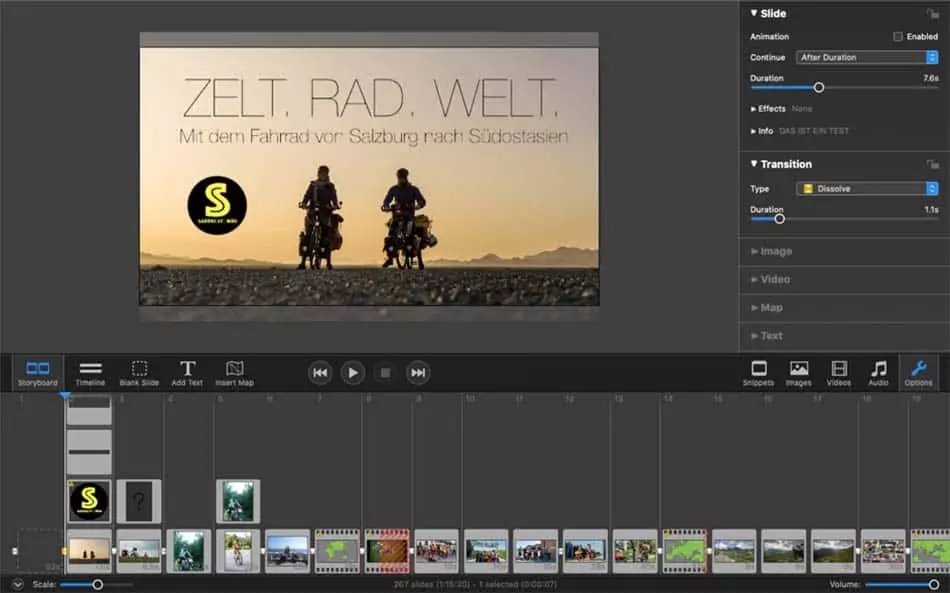 Most favorite features?
FotoMagico has a variety of features that fully unfolds during the process of creating a slideshow presentation. The more special effects and creative ideas you have, the more you can use them. For our project, we aimed for a clean look yet using simple features that underline our story in a subtle way. Therefore, we put a lot of attention into details, such as transition types and the use of animation.
Choosing the right transition type between each slide helped us to support our live comments. Different transition types indicate the beginning of a new chapter or a new section such as the beginning of a video. It ́s nothing the audience will notice consciously, yet it adds a rhythm to our storytelling.
To feel comfortable on stage we carefully chose which event we prefer to activate the next slide. Should each slide have a specific duration or will we use a presenter on stage to continue to the next slide? A very helpful feature when presenting live.
What's next?
Finding ourselves in a global pandemic, our live slideshow presentations had to be canceled. Since all the work with building a slideshow was already done, we decided to make our presentation online accessible. With FotoMagico it's possible to export the slideshow in different movie formats or share it directly on YouTube.
If you are interested in how our slideshow presentation turned out, you can get access here (German only!):
https://www.saddlestories.at/vortrag/online-ansehen/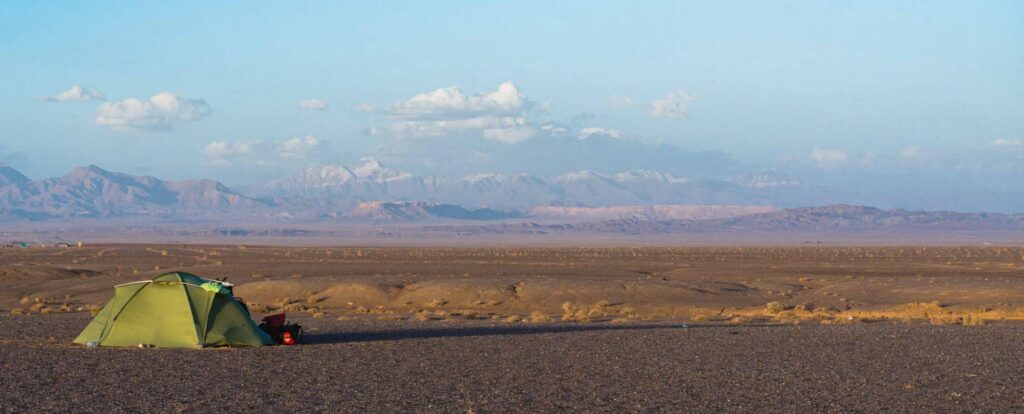 Website: www.saddlestories.at
YouTube: https://www.youtube.com/channel/UCMXW4j93N4VFpKYJpXMY7Xw
Instagram: https://www.instagram.com/saddlestories.at/
Facebook: http://www.facebook.com/saddlestories.at