PRESS RELEASE
October 26, 2023 – Montpellier, France & Germering, Germany — In a move that heralds a harmonious union between two leading photo software solutions exclusively for Mac, BOINX and CYME proudly announce their strategic partnership. Together, they integrate FotoMagico and Peakto, empowering users to effortlessly craft compelling narratives from their photographs.
Making the most of one's photos can be quite a challenge: finding and easily selecting the right images while having access to elegant and adaptable templates. This is where Peakto and FotoMagico demonstrate their relevance.
Peakto is the universal cataloger capable of bringing all photos together in a single interface, offering centralized search capabilities that even leverage artificial intelligence to locate a photo based on a simple description.
As for FotoMagico, it offers elegant templates that are highly customizable down to the smallest detail to uniquely showcase photos and videos.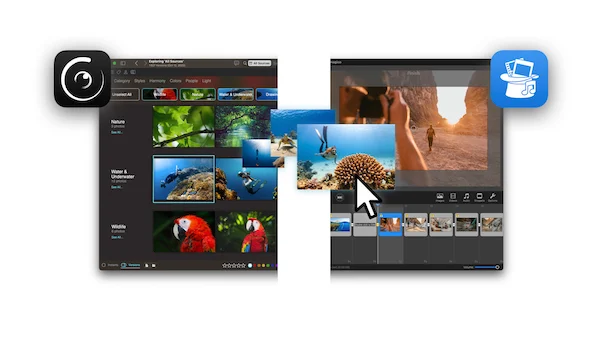 With the interconnection between the two software programs, a simple copy-paste of the selection made in Peakto allows the user to send it to FotoMagico to create an efficient and stunning video slideshow. Finding the best photos for a story and the perfect setting to showcase them becomes a pleasure with the combination of Peakto and FotoMagico.
"In today's digital age, we're snapping more photos than ever, yet truly cherishing only a few. That's where Peakto comes in. We designed it to bring all your images together in one seamless interface. Pairing it with FotoMagico turns those photos into the canvas for creating vibrant, compelling stories. We're delighted that this collaboration resonates with our goal: bringing back the joy of truly appreciating our photos." remarked Claudia Zimmer, Co-Founder of CYME.
Oliver Breidenbach, CEO of Boinx, expressed his enthusiasm, "Our goal has always been to make photography more accessible and enjoyable. Through this collaboration, we're taking a leap towards making photo storytelling a delightful experience for all."
About Peakto
Peakto for macOS is a meta-cataloger compatible with leading photo editing software, including Apple Photos, Lightroom Classic, Luminar Neo, Capture One, Pixelmator Pro, DXO PhotoLab, DXO PureRAW, ON1 Photo RAW, Aperture, and iView Media. In addition to cross-application organization tools, Peakto offers powerful centralized search capabilities, such as Conversational Search – a simple description is all you need to find an image. With Peakto, managing and exploring extensive collections of digital photos has never been easier. Peakto can be tested for free for 15 days and is available starting from €5/month, billed annually. More information.
DOWNLOADS
Visuals (CYME PEAKTO)
Visuals (BOINX FotoMagico)

About FotoMagico
Founded with a commitment to transforming the digital photo experience, FotoMagico seamlessly integrates technology and storytelling to empower photographers of all levels. Over the years, FotoMagico has become a trusted name in photo presentation software, offering a perfect blend of intuitive design and powerful features. With each iteration, FotoMagico continues to pioneer advancements that push the boundaries of visual narration, allowing users to not just display, but truly captivate with their photo stories.
About Boinx
Pioneers in the multimedia software landscape, Boinx Software has been dedicated to crafting innovative digital media tools for both amateurs and professionals alike. Renowned for standout products like FotoMagico, mimoLive, and the groundbreaking iStopMotion, Boinx has consistently pushed the boundaries of multimedia creation. These tools, among others in their portfolio, have revolutionized how users create, edit, and share multimedia content. Positioned uniquely at the intersection of creativity and technology, Boinx Software remains unwavering in its commitment to empowering its global community, ensuring they can express and share their unique visions with precision and flair.
About CYME
CYME has developed Peakto and Avalanche in response to the needs and wants of photographers worldwide. Founded by serial entrepreneurs Claudia Zimmer, Matthieu Kopp and Thomas Ribreau, CYME's mission is to deploy innovative features that will both serve the photography community and help protect our planet. CYME works continuously to enrich our software with solutions to save our best photos, in good quality and without duplication; to encourage digital sobriety by keeping only our best images; and to facilitate the sharing of our best images and memories.
Press Contact CYME
Claudia Zimmer (c.zimmer@cyme.io)
Allison Reber (a.reber@cyme.io)
Press Contact Boinx
Oliver Breidenbach (oliver@boinx.com)
Steffen Skopp (steffen@boinx.com)
All Material and Software (C) Copyright 2023 CYME and BOINX Software. All Rights Reserved. Apple, the Apple logo, Aperture Macintosh Mac OS X and macOS are registered trademarks of Apple Inc. in the U.S. and/or other countries. Lightroom is a registered trademark of Adobe, Luminar is a registered trademark of Skylum, Google Photos is a registered trademark of Alphabet and Capture One is a registered trademark of CaptureOne. Other trademarks and registered trademarks may be the property of their respective owners.